Project Anoulak : Biodiversity conservation in the Annamite Mountains of Laos.
Project Anoulak is dedicated to the long-term conservation and study of wildlife in their natural habitats in Lao People's Democratic Republic (Lao PDR or Laos), in particular in Nakai-Nam Theun National Protected Area (NNT NPA).
Our Projects
To achieve our mission, Project Anoulak develops and implements projects under four main programs.
Our Published books
Project Anoulak produces exclusive educational resources and notably children's illustrated storybooks to raise awareness of the importance of biodiversity conservation in the Annamite Mountains.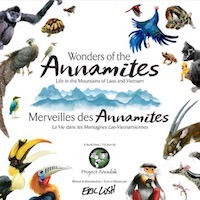 published by Project Anoulak in four editions: English; French-English; English-Lao and English-Vietnamese
Our Partners
{"column_number":5,"column_number_dt":5,"column_number_smdt":4,"column_number_tablet":3,"column_number_mobile":2,"nav":"true","dots":"false","auto_play":"true","pause_on_hover":"true","swipe":"true","draggable":"true","rtl":"false","autoplay_speed":"3000","pagination_speed":"450"}