In April 2022, we conducted a water-sampling collection in two rivers (Nam Theun and Nam Noy) in Nakai-Nam Theun National Park as part of a research and conservation project for the Endangered fish Luciocyprinus striolatus (Paa Kang). We collected six samples that will later be analysed in the Fishbio laboratory in the US. We will be collecting additional samples at other sites inside the National Park in 2023.
This project is a collaboration between Association Anoulak, Fishbio, Nam Theun 2 Power Company and Nakai-Nam Theun National Park, with an additional co-funding contribution from the Critical Ecosystem Partnership Fund.
Watch our team on the ground in this video:
This collaborative research and conservation project on Luciocyprinus striolatus aims to develop scientific knowledge and understanding of the abundance, distribution, life cycle and threats of this data-poor endangered species (Luciocyprinus striolatus) in order to conserve and protect the population in Laos.
The overall objectives of the project will include:
Conduct an assessment of the threats to Luciocyprinus striolatus in Nakai – Nam Theun National Park watershed
Conduct an assessment of the current presence/absence, distribution, abundance, and ecology of striolatus
Conduct workshops to discuss conservation action plans for the species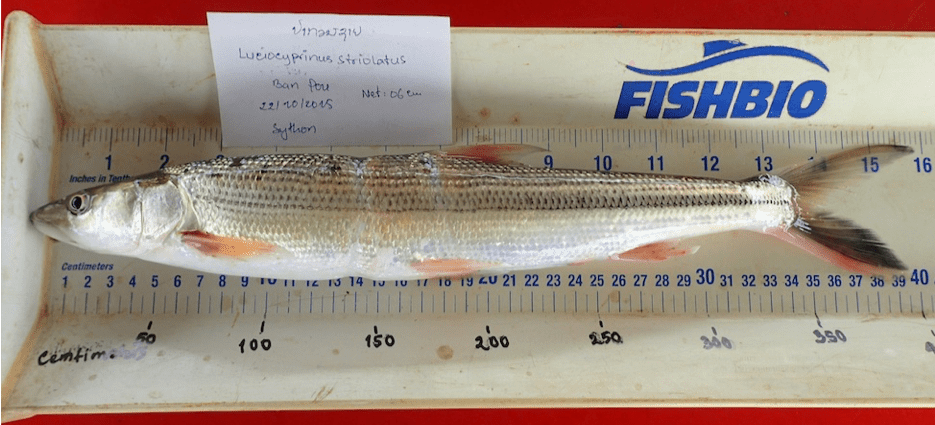 Background facts about the species:
Luciocyprinus striolatus (Local names: Pa Khouan-Zai, Pa Kang, Pa Sak) is a species of endangered cyprinid native to parts of Laos and China
Listed as Endangered on the IUCN Red List of Threatened Species
The abundance of the species is thought to be rapidly declining due to various impacts from human activities including deforestation, infrastructure and hydropower development, low water levels, the use of destructive fishing gears, and climate change
The species is believed to be already extinct from China, which make Laos the only country to protect the species.
The distribution of the species in Laos remains little known, as well as the threats it faces where the species has been confirmed.
There are currently only two locations in the country where the species has been recorded: Nam Pak river, a tributary of the Nam Ou river in Oudomxay Province, northern Laos; and Nam Kading/Nam Theun river, a tributary of the Mekong river, in Khammouan Province, central Laos.