From 19 to 25 August 2023, we attended the International Primatological Society 2023 in Kuching, Borneo Malaysia. As part of this international congress, which brought together primatologists, scientists and conservationists from all around the world, we presented two of our projects at the a symposium dedicated to Gibbons: Addressing Knowledge Gaps and for Saving the Small Apes:Lessons from Research, Conservation, and Outreach.
Camille Coudrat (Association Anoulak director) presented the preliminary results of our project on the distribution of White-cheeked Gibbons in Central Laos.
INVESTIGATING THE UNKNOWN: DISTRIBUTION OF THE SOUTHERN WHITE-CHEEKED GIBBON NOMASCUS SIKI AND THE NORTHERN WHITE-CHEEKED GIBBON N. LEUCOGENYS IN CENTRAL LAOS
– Camille Noemie, Zoe Coudrat, Association Anoulak (Primary Presenter)
– Michal Hradec, Czech University of Life Science Prague
– Hana Vostrá-Vydrová, Czech University of Life Sciences Prague
Abstract: Nomascus gibbons are the most threatened of the four Hylobatidae genera. The Northern N. leucogenys and the Southern White-cheeked Gibbon N. siki are both classified as Critically Endangered. They have a restricted global range and are endemic to Laos and Vietnam. It is currently speculated that the Nam Kading-Nam Theun (river) represents the major geographical barrier between N. leucogenys and N. siki (ranging north and south of the river, respectively). However, in central Laos the distribution range limit between the two species remains uncertain, preventing appropriate conservation planning. Gibbon songs are taxonomically distinct between species. To investigate the distribution of N. siki and N. leucogenys, we collected and obtained from partner institutions a total of 896 gibbon songs from sites in central Laos and Vietnam. We compared these recordings with 213 vocal recordings of genetically-screened gibbon individuals of both species from zoological facilities in Europe. Our dataset contains 674 records from males and 222 records from females. We performed the Kruskal-Wallis test to select acoustic parameters. We used cluster analysis to identify differences in vocalization among the gibbon populations. Cluster analysis is a multivariate method useful for identifying the same individuals based on the acoustic parameters they assign into clusters. The preliminary results showed that in the area north of the Nam Kading-Nam Theun are groups similar to N. siki while groups south of the river show a mixture of the two species. The results of our research will lead to re-evaluating the global distribution of both species and adapt national conservation prioritization.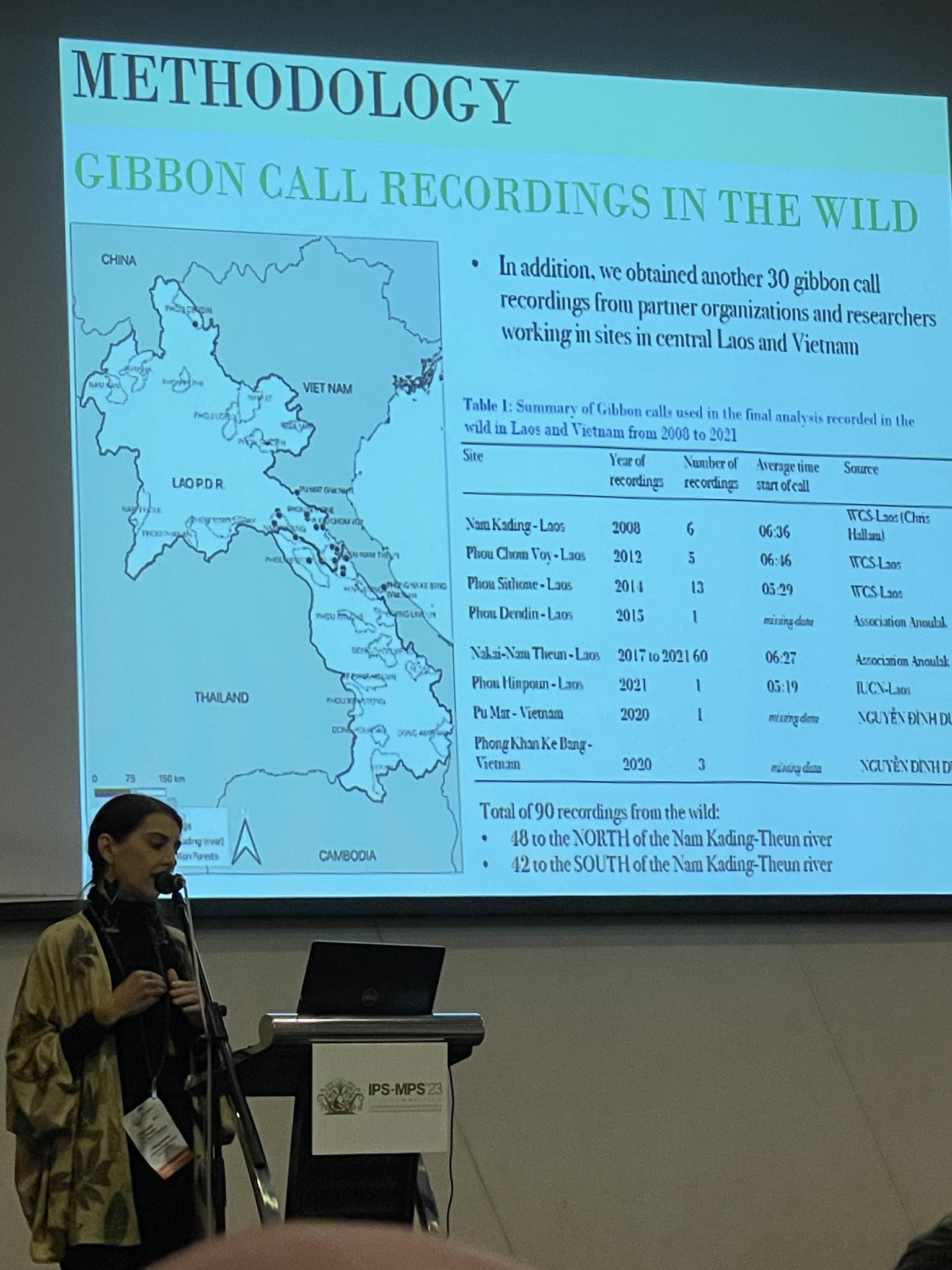 We also co-authored another presentation that was given by one of our technical partners Dr. Cornelia Oedekoven from St. Andrews University, that presented another of our current collaborative projects on gibbons, consisting of developing new technology to survey gibbon populations. Later this year, we will be testing the prototype in Laos.
GIBBON SURVEYING IN THE DIGITAL AGE

– Cornelia Oedekoven, University of St Andrews (Primary Presenter)
– David Borchers, University of St Andrews
– Mark Peter Johnson, Aarhus University
– Camille Noemie, Zoe Coudrat, Association Anoulak
Abstract: Gibbons are difficult to see and easy to hear, so the best way to detect them is to listen for them. It is easy to establish gibbon presence this way, but not so easy to estimate gibbon density and abundance, which requires information on their locations when calling. Humans doing the listening can estimate directions to calls, and gibbon locations can be estimated by triangulation (although this can be labour-intensive and error-prone). Digital recorders are better listeners than humans in that they are cheaper and don't get tired. Currently available recorders don't estimate directions to calls but it turns out that accurate directions to calls is important for accurate density estimation. We introduce new digital recorders with synchronised clocks and multiple microphones which are able to provide estimated directions to sound sources accurately, and show how this improves density and abundance estimation, using acoustic spatial capture-recapture methods. We briefly discuss survey design, how calls can be efficiently extracted from acoustic files, and summarise results from initial field testing. These confirm that use of the new digital recorders with angle estimation substantially improves density estimation as well as provides much better information on sound source locations. They will undergo full field testing in Laos late this year. We hope their use will improve gibbon population monitoring and conservation planning in the near future.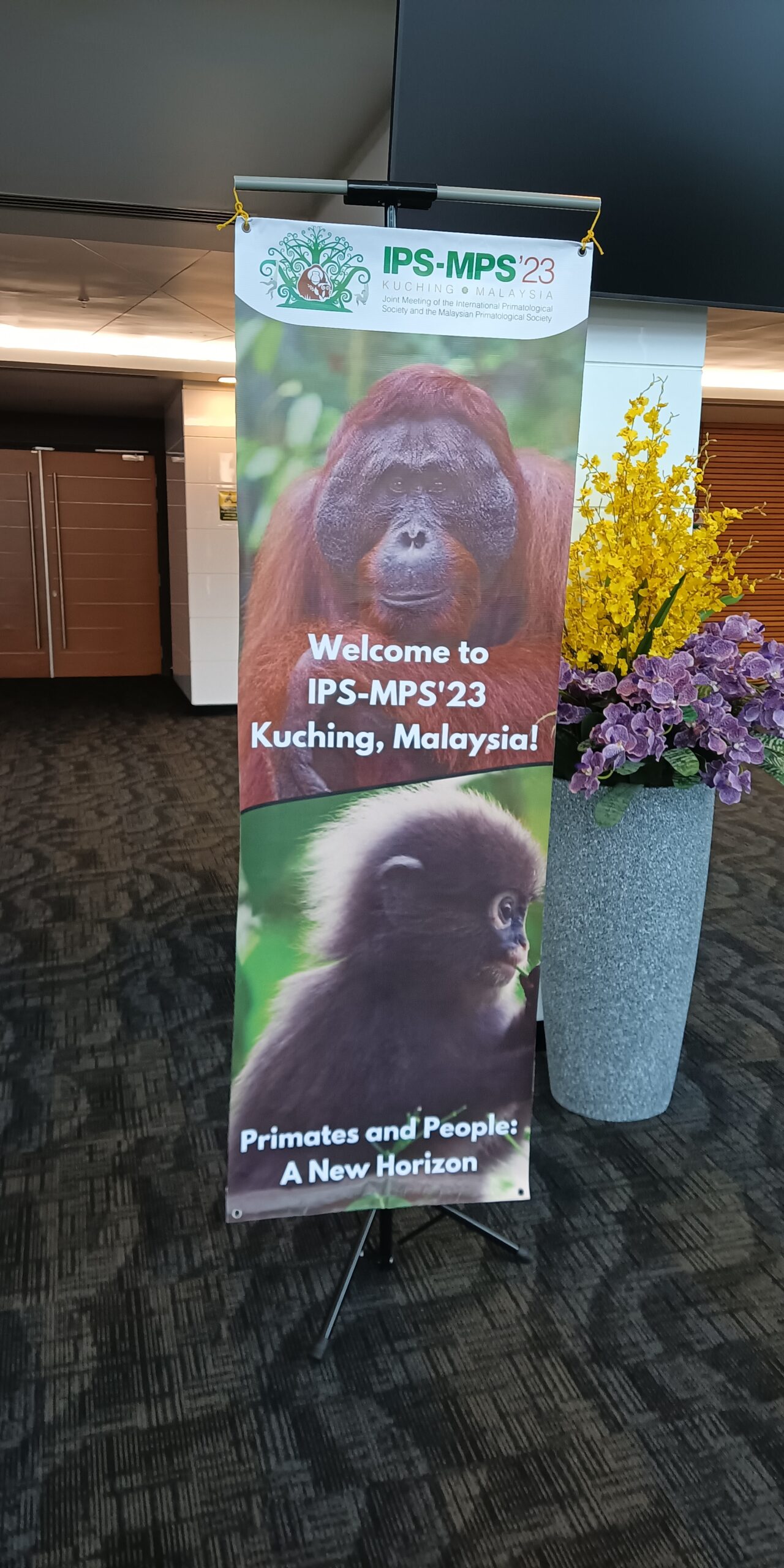 The congress was also a wonderful opportunity to reconnect with many friends and colleagues, including former professors, as well as meet new people for exchanging knowledge, ideas and discuss potential new collaborations!