In March last year (2019), Mr. Andréa Sotto-Mayor, a French national, 28 years old, came to work with our field teams for 12 months as our Red-shanked Douc research project manager. We said farewell to him this week as he is moving on to new adventures and endeavors. Here is a brief look back at the 12-months he worked with us, as a tribute to him to show him all our heartfelt gratitude for his dedication.
Doing field work with our teams in the Annamite Mountains is not for the faint-hearted! The basic and harsh conditions of field work require mental and physical strength. And Andrea definitely had what it took and adapted very well and very quickly!
He rapidly settled into one of the field station's bamboo huts; taking his showers into the nearby river; navigating into the forest like it was his (mountainous) backyard garden; being acquainted with the inhabitants of the forest (including a frightening encounter with Mr. King Cobra); developing new taste for the staple sticky rice and spicy dishes of dried meat, dried fish or buffalo skin (and not much else…), washed out with smoky-tasting boiled water, sometimes coloured and infused with various barks collected in the forest! Not to mention the occasional shots of Lao-Lao (rice whiskey). He also became a player of 'kato' (a local game most closely resembling volleyball but played with a rattan ball and with rules allowing using any parts of the body in rather impressive, flexible dance-like moves), joining the daily enthusiastic 'after-work' games of the teams!
Andrea quickly became known as "Sally"—meaning 'corn'— a nickname chosen by the locals specifically for him (Andrea being too difficult to pronounce for Lao people!) and was rapidly adopted and loved by the whole local community, with whom Sally was also able to communicate with basic Lao language he acquired. In the villages, he blent in and had numerous opportunities to join in traditional ceremonies (Baci) or other various celebrations.
Above all, Andrea has been extremely dedicated to his mission these past 12 months. His initial mission was to train our local field teams to set up a process for the habituation of the Red-shanked Douc (Pygathrix nemaeus)—a colourful monkey species facing extinction across its range—in order to eventually be able to collect long-term data on their behavioural ecology (i.e. diet, home range, activity, group dynamic, habitat use etc.).
The habituation process had been unsuccessful since we initiated the project in 2015 (resulting in opportunist data collection on non-habituated groups from which analysis and interpretation can be problematic), which prompted the decision to bring in a research manager (primarily focusing on the habituation process) dedicated to the project and indeed to evaluate the long-term feasibility of the project. After ~11 months of intense and full-time perseverance in the habituation process, and numerous discussions and deliberations with the teams, it became evident that the habituation of the doucs was not feasible at our field site (there are actually nowhere else in doucs' range where they have been habituated, despite some trials). This is in part due to the characteristic fission-fusion group dynamic of the species (several small groups of 4-7 individuals regularly join together to form larger groups, sometimes reaching 40-50 individuals, and split again moving to different directions in the habitat, in a span of a day), which made it impossible to identify and follow any one 'group' for its habituation. Given the intensive efforts and resources that had already been put into the project and more so in these past 12 months with Andrea's supervision of the project, we therefore decided to interrupt this project and instead seek out eventual alternative ways to be able to collect data on the species' ecology (e.g. extract information on their diet from fecal samples). Andrea's assignment has therefore been extremely valuable to us to assess the long-term viability of the project; resources will be redirected to all our other biodiversity conservation projects.
Needless to say, the whole Anoulak team and the local community was very sad to see him go. As Andrea shared with me, his experience these past 12 months have had a strong impact on him personally as well; For one, it undeniably reinforced his passion for primates (at multiple times he told us how much he will miss the Red-shanked Doucs) and for field work in the tropics. But also, and among many other lessons, living 'in' nature and disconnected from the rest of the world for long periods of time, unsurprisingly, has lifted his creativity leading to new-found hobbies, such as drawing (with an impressive talent!), writing, reading, photography and filming. Andrea is indeed in the process of producing a series of short films presenting some of our projects, and these will be shared on our YouTube Channel once they are completed. His new interest and talent for video production, Andrea would like to pursue it further and offer his skills to more conservation NGOs for storytelling, communication and promotional videos. And we, the Anoulak team, can only highly recommend him (for both field research and media production)!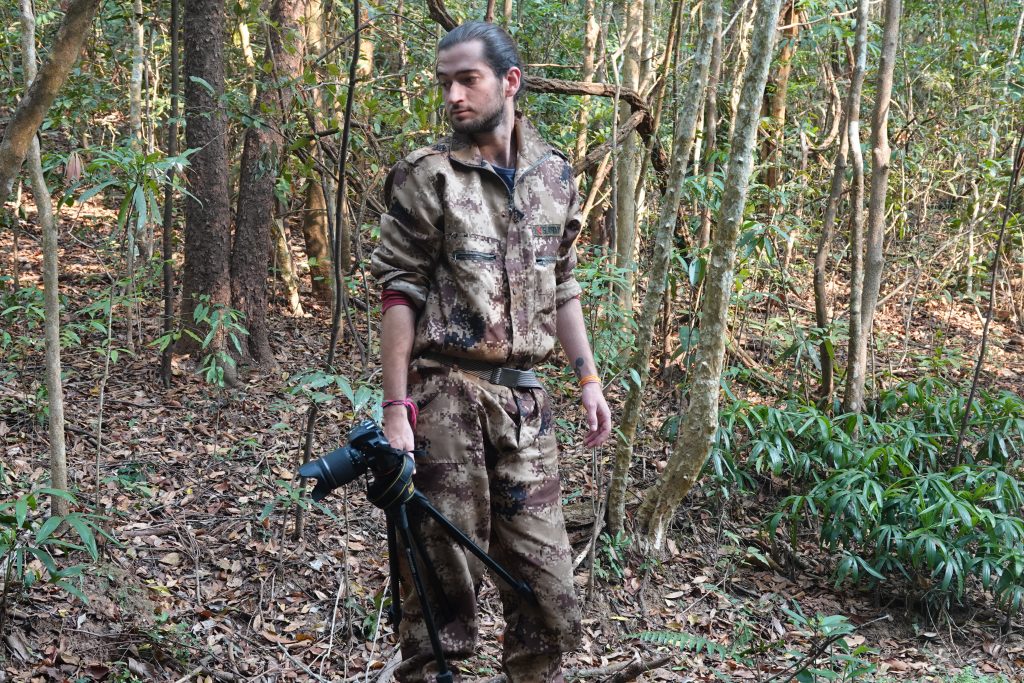 We are very pleased that on both sides, the Anoulak team and local community as well as himself, have greatly benefited from this experience. We will miss him dearly and wish him all the best in his next endeavors. You are forever a member of our family!