As the world is currently going through a global health crisis with the Coronavirus disease (or COVID-19) transmitted by the highly contagious SARS-CoV-2 virus, many activities and jobs were forced to cease around the world to control the transmission of the virus.
Meanwhile, forest protection has not stop and must go on. Our rangers are still hard at work (following all Government directives related to the COVID-19 crisis). Each month, our teams are patrolling the forests in Nakai – Nam Theun National Park to control the illegal poaching.
Illegal poaching in Nakai-Nam Theun National Park have led in the past few decades to declines in biodiversity populations and local species extirpation, including several globally threatened and endemic species. In order to conserve the current remaining populations of threatened species in the area and allow animal populations to recover from past hunting pressure, a long-term and intensive anti-poaching patrol system and strategy is essential. The law enforcement strategy for the national park is based on sites prioritization where forest patrols are focusing on three Biodiversity Priority Zones (BPZ; the three BPZ where delineated based on a consultation workshop with experts coordinated by Association Anoulak in 2015 and represent zones with the highest value in terms of biodiversity richness, wildlife population abundance and relative lower level of threats).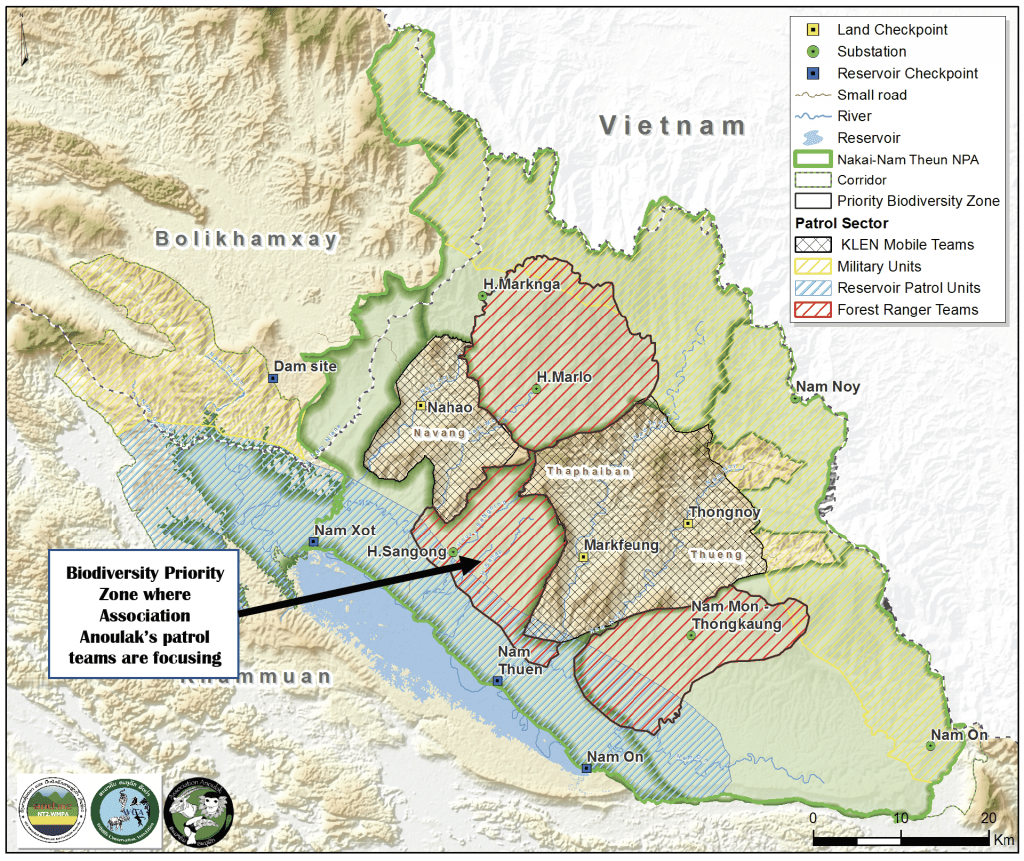 We are working in close collaboration with the Nakai – Nam Then National Park Authority and its technical law enforcement team to coordinate our efforts in anti-poaching patrols as part of the overall Law Enforcement Strategy for the national park. Data management and work flow is facilitated with the Program SMART (Spatial Monitoring and Reporting Tool).
Since 2016, Association Anoulak has been deploying monthly 4 anti-poaching patrol teams focusing patrols in one of the three BPZs, covering approximately 250 km2 in order to control illegal activities in this zone. And since May 2019, we are supporting two more teams. Association Anoulak is therefore supporting the deployment of 6 anti-poaching patrols: a total of 36 villagers employed from the local community.
In 2019 alone, our six teams have patrolled 11,000 km during which they have collected and destroyed 600 snares (wildlife traps) set illegally in the forest and confiscated 40 illegal hand-made guns.
Our teams are complementing other teams supported and managed by the Nakai – Nam Theun National Park Authority, patrolling in the other two BPZs (and other key areas). All together (including our six teams) 32 teams are patrolling the national park. In order to evaluate the impact of patrol efforts and law enforcement measures on biodiversity, a systematic wildlife population program using camera-traps is implemented in the national park, with Association Anoulak's technical advise, supervision and co-funding.
While we all are demonstrating, amid the current global crisis, sincere gratitude to the medical, education and farming professionals for their vital role in our societies, we would also like to bring the spotlight on all rangers and law enforcement workforce working tirelessly around the world to protect wild places against illegal poaching. Thank you!