In January 2023, we coordinated a second mission for our technical partner FISHBIO to study the status and distribution of the population of the Endangered Wolf Barb fish Lucyociprinus striolatus in Nakai-Nam Theun National Park.
Luciocyprinus striolatus (known under the local name Paa Kang in Nakai) is a species of Endangered cyprinid native to parts of Laos and China. The species is believed to be already extinct from China, which make Laos the only country to protect the species. The distribution of the species in Laos remains little known, as well as the threats it faces where the species has been confirmed. There are currently only two locations in the country where the species has been recorded: Nam Pak river, a tributary of the Nam Ou river in Oudomxay Province, northern Laos and Nam Kading/Nam Theun river, a tributary of the Mekong river, in Khammouan Province, central Laos. Confirming the confirmation status of the species in Laos is crucial to inform conservation planning for the species.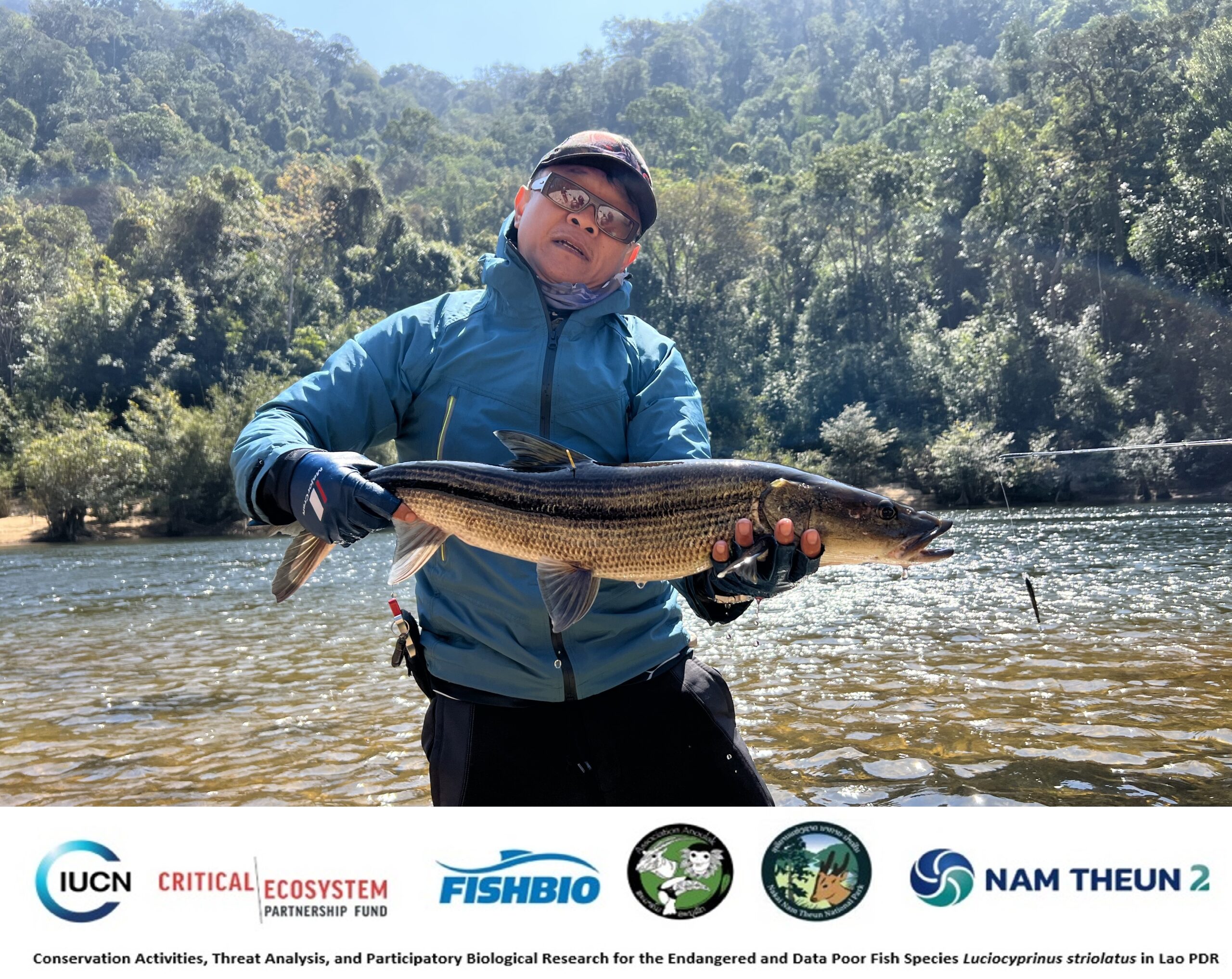 In 2022, we initiated a collaborative research and conservation project on the Endangered Wolf Barb that aims to develop scientific knowledge and understanding of the abundance, distribution, life cycle and threats of this data-poor endangered species in order to conserve and protect the population in Laos.
The objectives of our study are:
Conduct an assessment of the threats to Luciocyprinus striolatus in Nakai – Nam Theun National Park watershed
Conduct an assessment of the current presence/absence, distribution, abundance, and ecology of striolatus
Conduct workshops to discuss conservation action plans for the species
This project is a collaboration between Association Anoulak and technical partner FISHBIO (FISHBIO received co-funding from IUCN/CEPF for this project), as well as with local partners the Nam Theun 2 Power Company and the Nakai-Nam Theun National Park.
In 2022, we started field collection of water-sampling collection in two rivers (Nam Theun and Nam Noi) to detect the species via environmental DNA technique.
In January 2023, we conducted a second mission with FISHBIO, to replicate second-year  water samples (a total of nine samples were collected on the Nam Noy), record water quality (at a total of 11 locations on the Nam Theun and the Nam Noy), and catch the species for tagging them with external T-bar tags, before release back to the river (other measurements such as weight and length of the individuals were recorded). The tagging of the species with a unique code, will help the technical team to follow the movement of individuals in the habitat if these are caught again by local villagers (villagers were trained on recording this information to report to the team).