In the March-April 2021 issue of Champa Muenglao magazine – the official Lao Airlines inflight Magazine of Lao Airlines – Association Anoulak contributed with an article to highlight the rich diversity of fauna and flora of the Annamite Mountains.
You can read the article online: https://issuu.com/champameuanglao/docs/cml-march-april-2021/12
The Annamite Mountains hold an extraordinary diversity of animal species that are found nowhere else on earth. These species are difficult to observe in the wild and therefore are not well known to the public. But they are highly threatened by extinction because of human illegal encroachments. Therefore, they deserve to be put in the spotlight for their singular beauty and intrinsic value: they represent the natural heritage of Laos.
Association Anoulak's mission is the conservation of biodiversity and the security of sustainable livelihoods of local communities in the Annamite Mountains region of Laos. One key component of moving towards this mission is to raise awareness of the public in Laos of the importance of the Annamite Mountains for its diversity in wildlife and human cultures. To do so, Association Anoulak publishes illustrated books and articles targeted at the national and international community.
The Red-shanked douc, one of the species of primates found only within the Annamite Mountain range (in Laos, Vietnam and Cambodia) was honored on the cover of this issue!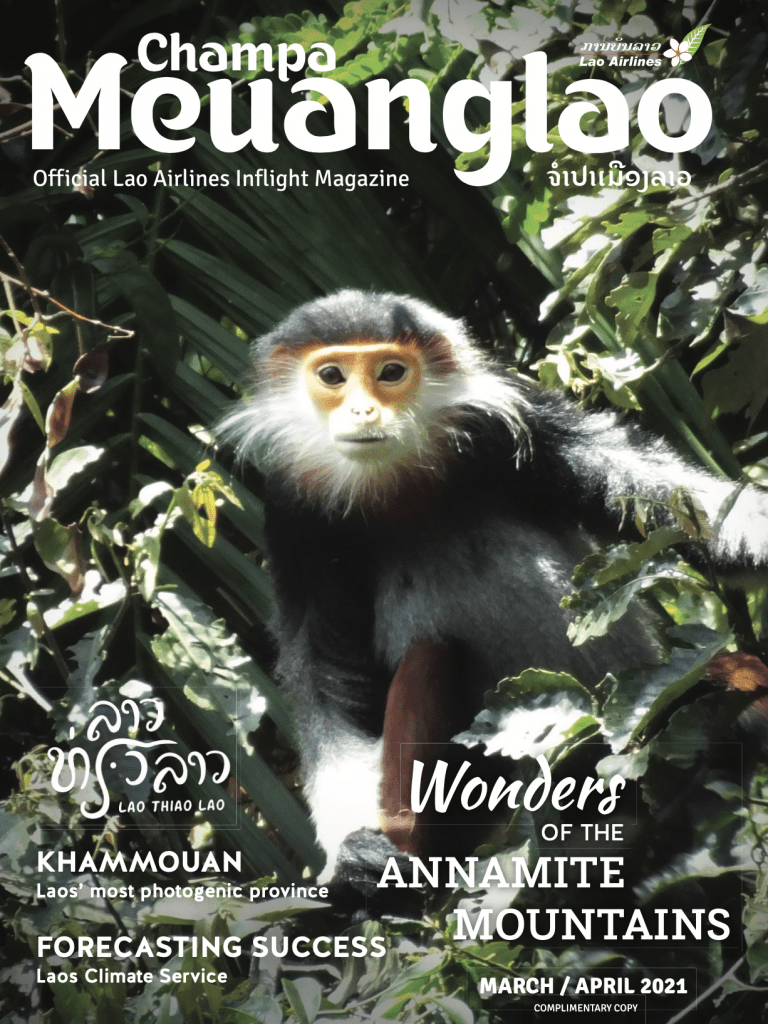 This week also saw a publication in the most read national newspaper in foreign language Vientiane Times (issue of March, 9 2021), where Association Anoulak was highlighted for its contribution to biodiversity conservation in Nakai – Nam Theun National Park. The red-shanked douc was once again the star of the article! The article can be accessed online here.
This article was also relayed on the Malaysian online newspaper The Star, here.
We hope that with these publications targeted at the public will contribute to create emotional connections with nature and develop pride, inspiration and new vocations in the next generation of Lao people.
As the famous quote goes, "In the end we will conserve only what we love; we will love only what we understand; and we will understand only what we are taught." (Baba Dioum, 1968)