In June 2019, we launched our Nakai Women Handicraft Program.
Our objective: to provide skills and alternative income to women from the Nakai community. We provided a 3-week workshop targeted at women and young adults to create handmade bracelets. As part of this first workshop, Association Anoulak purchased bracelets that were produced, bringing an alternative income to the community. These are then retailed through our partners in Europe (and worldwide); a great way for our association to raise funds, then reinvested in the project for its sustainability.
For three weeks, 20 women/young adults (aged 16 to 40) participated daily on a voluntary basis in the workshop that took place at the Nong Boua Kham Resource Centre (established with the support of the Nam Theun 2 Power Company to support with sustainable livelihoods initiatives the community from 16 resettled villages); participants came from 4 different villages (located at the edge of the Nakai-Nam Theun National Park in Nakai District).
A trainer mobilized by Association Anoulak (Mrs. Hélène Coudrat [Camille's mum!]) taught them to saw and craft beautiful bracelets made of locally-sourced fabric (batik), charms and seeds. The participants were given freedom to design their own bracelets and proved to be extremely creative!
Following the workshop, the trainees continued to make the bracelets with enthusiasm. Two-thousands (2000) bracelets were completed and purchased (10,000 kip/bracelet) from the community, paid to the Happy Nakai Cooperative to a community fund, shared and managed by the community themselves. The trainees affirmed their interest to continue creating bracelets by reinvesting the funds and marketing items in Laos. This approach fits into the overall principles and approach of the Nong Boua Kham Resource Centre: bottom-up, community-relevant, community-led and managed, skills development focused, youth development and opportunities, alternative livelihoods, marketing of natural resources, economically viable etc. and will therefore contribute to the growth of the community.
We plan to conduct another workshop next year to create new models and new items, sourcing as much as possible all materials locally.
Here is a short video about the workshop (video produced by Vilay Souylasith):
Each bracelet is unique, handmade with love and creativity by Lao women, approved by our quality check, and supporting a great cause for people and nature!
Our Anoulak bracelets collection is currently sold in Mulhouse Zoo, Beauval Zoo, Cerza Zoo and Juhlava Zoo.
They are also available to purchase online for individuals, on our Anoulak Boutique, which we will update regularly with new items.
If you are interested in purchasing some bracelets at wholesale price, do not hesitate to contact us at camillecoudrat@conservationlaos.com (bracelets are wrapped in elegant plant-based compostable packaging).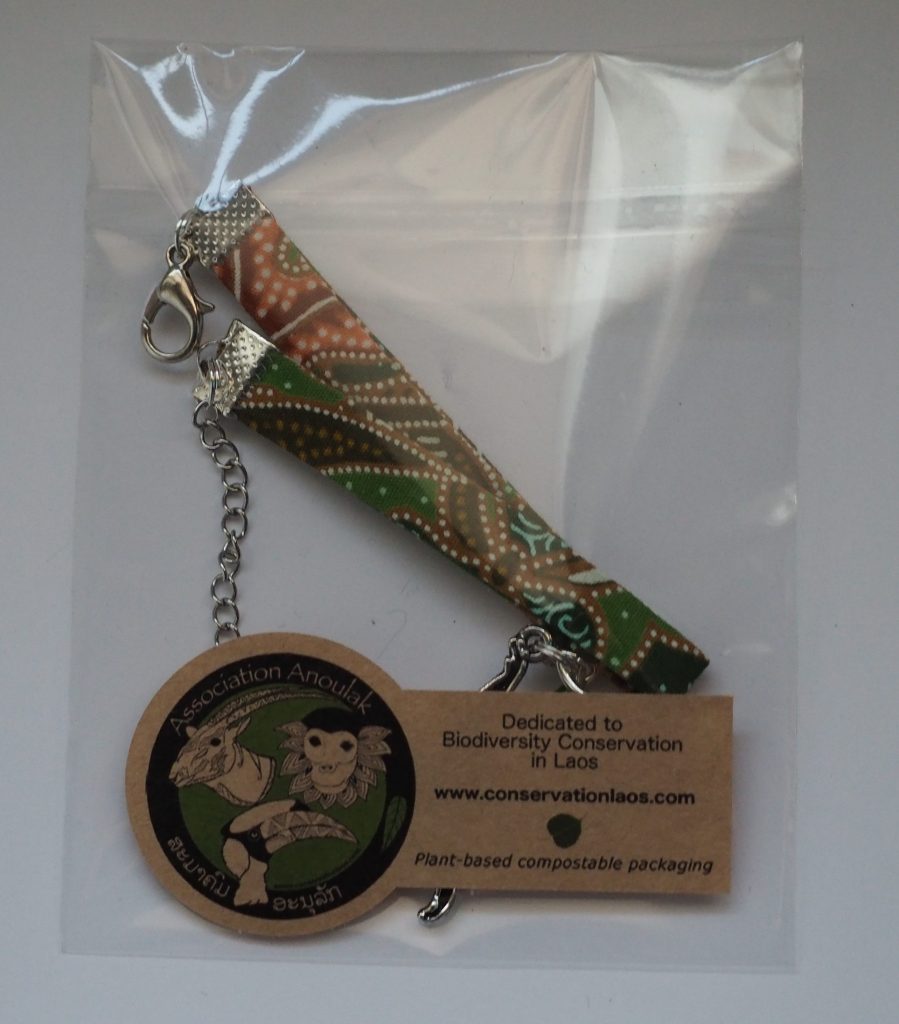 This project was conducted in collaboration with the Nam Theun 2 Power Company and the Happy Nakai cooperative.
It was funded by the Australian Aid (through the Direct Aid Program, delivered by the Australian Embassy in Laos).
We thank them all for their support!