Promoting the crafting skills of the local communities of the Nakai-Nam Theun National Protected Area
December 26, 2022

Happy New Year 2023 from Team Anoulak!
January 1, 2023
We are pleased to share our new publication on our otter research in Nakai-Nam Theun National Park, published in Ecology and Evolution journal!
In this study, we conducted baseline otter fecal DNA surveys based on mitochondrial DNA (mtDNA) to identify species, assess the occurrence, and map the spatial distribution of genetic diversity and evolutionary relationships of otter populations from Nakai-Nam Theun National Park in the Annamite Mountains of Lao PDR. Our research is the first otter-specific noninvasive genetic study in Lao PDR and provides baseline insights into the otter population diversity in a regional priority site for biodiversity conservation.
Our findings and conclusions:
From December 2019 to May 2020, six sites were surveyed across Nakai-Nam Theun National Park from where otter fecal samples were collected.
Of the total 56 samples identified to species, the majority (87.5%) was of the widely distributed Eurasian otter with three haplotypes.
All Eurasian otter haplotypes were newly characterized and clustered within the strongly supported South–Southeast–North Asian clade of Lutra lutra.
The second species was the Asian small-clawed otter with only one haplotype detected, which had not been detected in previous genetic studies.
Knowledge on the distribution, population genetic diversity, and connectivity of otter species remains scarce across their range in Southeast Asia. The lack of such baseline information has weakened national and regional conservation interventions. Our otter fecal survey provides the first baseline reference for the species presence and genetic diversity in Nakai-Nam Theun National Park, where such surveys should be repeated in the future over wider areas and habitats.
Our study, combined with a previous camera-trap otter survey (Coudrat, 2016), suggests that Nakai-Nam Theun National Park retains healthy populations of L. lutra and A. cinereus and be considered a priority site for regional otter conservation.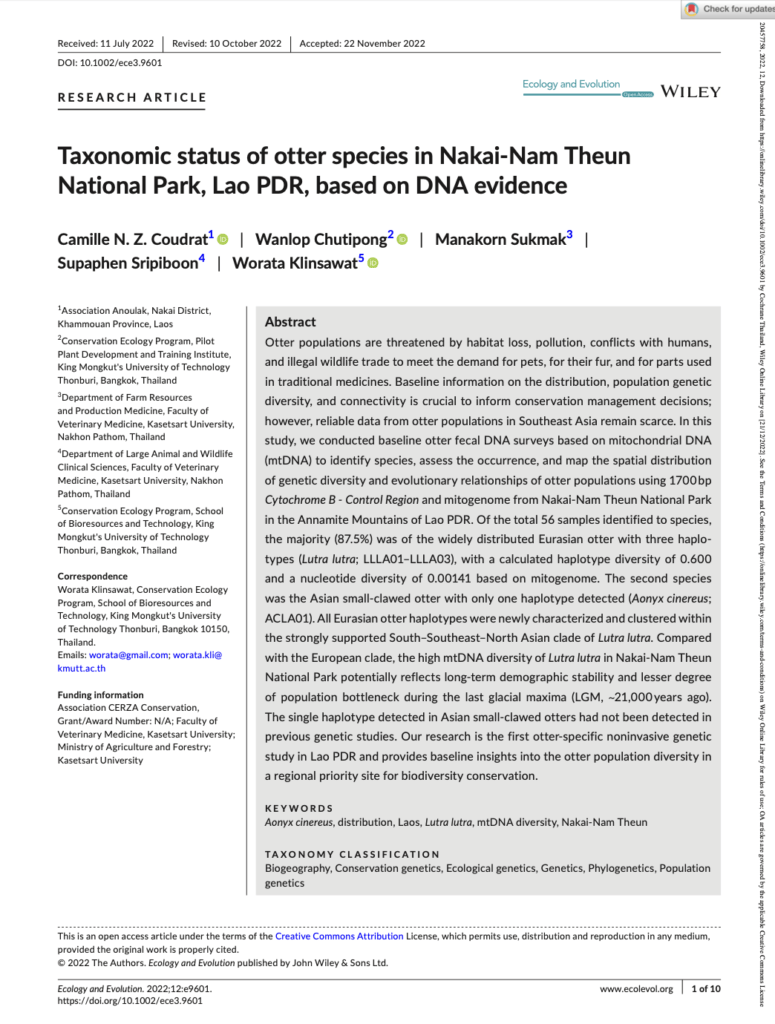 To learn more about this otter research conducted in the field in 2019-2020, you can check out our previous posts:
This research was conducted in collaboration with our local government partner the Nakai-Nam Theun National Park and with our technical partner The Conservation Ecology Program, School of Bioresources and Technology, King Mongkut's University of Technology Thonburi, Bangkok, Thailand and the laboratory at the Faculty of Veterinary Medicine, Kasetsart University Kamphaeng Saen Campus, Nakhon Pathom Province, Thailand.
It was supported financially by Association Anoulak (notably through grants received from Association Cerza Conservation), and by the Faculty of Veterinary Medicine, Kasetsart University.